To a Linux user like myself, an iPod is more or less a fancy paperweight; since Apple does not provide a version of iTunes for Linux.  Yes, it sorta works in Wine and does work well in a VirtualBox… but, really, why bother?  Even if there was an iTunes client for Linux, I probably wouldn't want to use it when there are already sleeker, faster and more complete media players for Linux available like Banshee, Songbird and Amarok.  This doesn't mean I don't get a little jealous about the iPod/iTunes experience, though.
Android users often ask if there is an iTunes like app for synching their music to their Android phone.  The answer is yes – unlike the iPod, Android is an open platform and users can use any number of applications to sync their music collection to their phone, including simply dragging and dropping your music folder onto the android device.  Drag and drop works well enough, but if you want to sync podcasts, playlists and album art to the device automatically, you need something a bit more sophisticated.  Banshee does all of this for you and more.  When you plug in your Android device (for Nexus One support pictured below you need the most recent package from the Banshee PPA), Banshee automatically shows you the music and videos on the device.  If you have purchased music from the AmazonMP3 store on the phone, Banshee recognizes it and gives you the option to import it to the music collection on your computer.  It then gives the option to sync your music collection to the phone.  It will also automatically, sync your newly downloaded podcasts, artwork and playlists with the phone.  Add or delete a file in Banshee, and it is added/removed from your Android device the next time your sync as well (you can instead choose to manually manage which songs or playlists go to the device).  Downloaded a new podcast, or listened to an old one?  That change is reflected on your Android phone the next time you sync as well.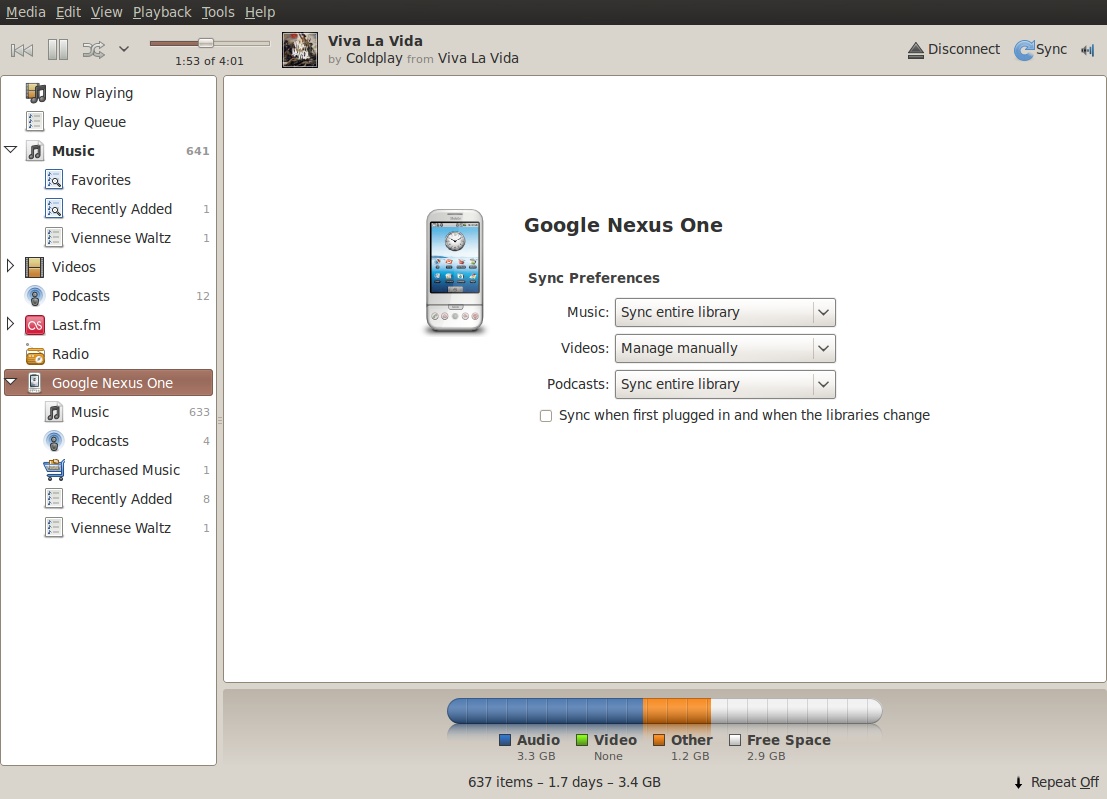 By the way, got an old iPod lying around?  Try putting Rockbox on it, Banshee detects and syncs Rockbox devices flawlessly.
When you consider that Banshee also plays and manages your video collection, looks elegant, has a ton of useful plugins, including amazing Last.FM support, and has full-time support from Novell; you'd think it would be a no brainer for Ubuntu to switch from Rhythmbox to Banshee.  Appparantly Ubuntu is hung up on the few things Rhythmbox has that Banshee doesn't like crossfading and a magnatune music store (despite the fact that Banshee now has EMusic support and demand for magnatune is small compared to stores like EMusic and AmazonMP3).  And, of course, there is the anti-mono contingent.  Whatever the reason, it's sad that Ubuntu is holding on to Rhythmbox and that the great Android support to be had with Banshee won't be default.
Edits:
In the comments below, it was pointed out that gtkpod can sync newer iPods.  That is good news.  When I had an iPod Touch a year or so ago, the only way to sync it on Linux was the jailbreak it and use ssh to get into the device…
OMG!Ubuntu posted a nice summary of new features coming in Banshee 1.5.3 to be released tomorrow:  http://www.omgubuntu.co.uk/2010/01/whats-new-in-banshee-153-folder.html