…is to have a good Samaritan nearby use the Heimlich maneuver on your desperate person. Better yet: don't swallow it in the first place, so you'll never *need* to hack it up! Take my nanowife, please!
😛
No, seriously folks, I just purchased my first cell phone. For two dollars and fifty cents…such a deal! I selected the sexiest from the lot of 'em, at a thrift store on Duboce and Church: "Out of the Closet". Now, all I needed was a phone charger and I'd be in business…which charger BTW, cost far more than the phone itself.
Now, I could finally learn what all this bruhaha is about re. "texting". Downloaded the user guide, and…Wow, what a ridiculous waste of time, but at least I get the drift: treat your fingers like little slaves, working them to the bone till they're all wasted from RSI and you'll need to wear digit splints on your texting hand for the rest of your life…and you're not even 30 yet! Or maybe even texting while crossing a busy intersection and–in your absorbed T9Word rendering–inadvertantly step on (and squash into its next life) a hapless black cat that had just veered off the sidewalk to avoid scampering under a ladder. Moving on…
Why did I buy a used cell phone? Why didn't I just go the regular subscription route? Only because–as one who is dead set on never acquiring this new-age albatross to tether me down to a chattering network of inane blathering for a highway robbery sum–I also saw the good in acquiring a diminutive handset, just for the sake of 911…which number by law, every cell phone is required to access, *including* those that are not subscribed.
Mine is the Verizon LG VX4600, which debuted waaay back in 2003. It's in excellent condition, battery just fine. But now that I own a cell phone, I want to *play* with it, outside and beyond the subscription realm. Or IOW, I want to learn how to *hack* the precious little silver hand robber.
So I've just begun the adventure, and would like to share the following cell hacking sites for others who may enjoy:
Cell Phone Hacks – How to hack your cell phone (Samsung, LG, etc)
How to Unlock Your Cell Phone for Free
Mobile Phone Resource & Community
Of course, I am limited from performing any hacks that require my own subscription, but *meh* I can handle that. Just think of all the money I'll save! ('Scuse me now while I figure out how to "sext" w/o a camera; maybe I can arrange smileys in some compromising position.)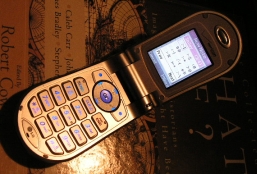 😐
—
Zeke Krahlin
Free as in dandelion necklaces.