Even Mark Shuttleworth is willing to admit that OSX has a pretty nice usable interface that is a good goal for desktop Linux to beat in the coming year or so. Even if you don't want to replicate the mac, or if you think compiz is more useless than it is functional (how dare you!?), you might still be interested in replacing one of the two Gnome taskbars with a dock. Here is my dating history with the docks of Linux land:
AWN (Avant-Window-Navigator). This is the first dock I tried a couple years back. It looks good, is easily configurable, and has a lot of great plugins (stacks, menu's, weather etc…). It can pretty much replace the entire gnome-panel in features. However, I only ended up sticking with AWN for a couple months because the auto-hide feature was (and still is) buggy and would crash the dock during normal operation. This should be fixed for the upcoming 0.4 release; so, I might have to give it another try at that time. The original developer works with Canonical on the Ubuntu Netbook Remix (which I love) and is definitely capable of great things.
Kiba Dock. I tried Kiba as a rebound for only two days after the AWN break up. Kiba has some great features including a pretty impressive physics engine. But, the dock was too crashy for my tastes. So, I moved on pretty quickly.

Cairo-Dock. This is the dock I ended up using for the longest period of time (so far, anyway, since I did eventually leave it). It is pretty rock solid performance wise (especially since the 2.0 release added OpenGL support). The downside is that it doesn't really have a polished look. The default dock after installation is pretty hideous and obnoxiously busy. The configuration is a bit complicated, but if you take the effort, you can get a pretty nice looking/behaving dock out of CD. One of the nicest features is that plugins can be detached from the dock to act as compiz widgets. I left CD not so much because I was unhappy, but because I was more impressed with Gnome-Do's offering.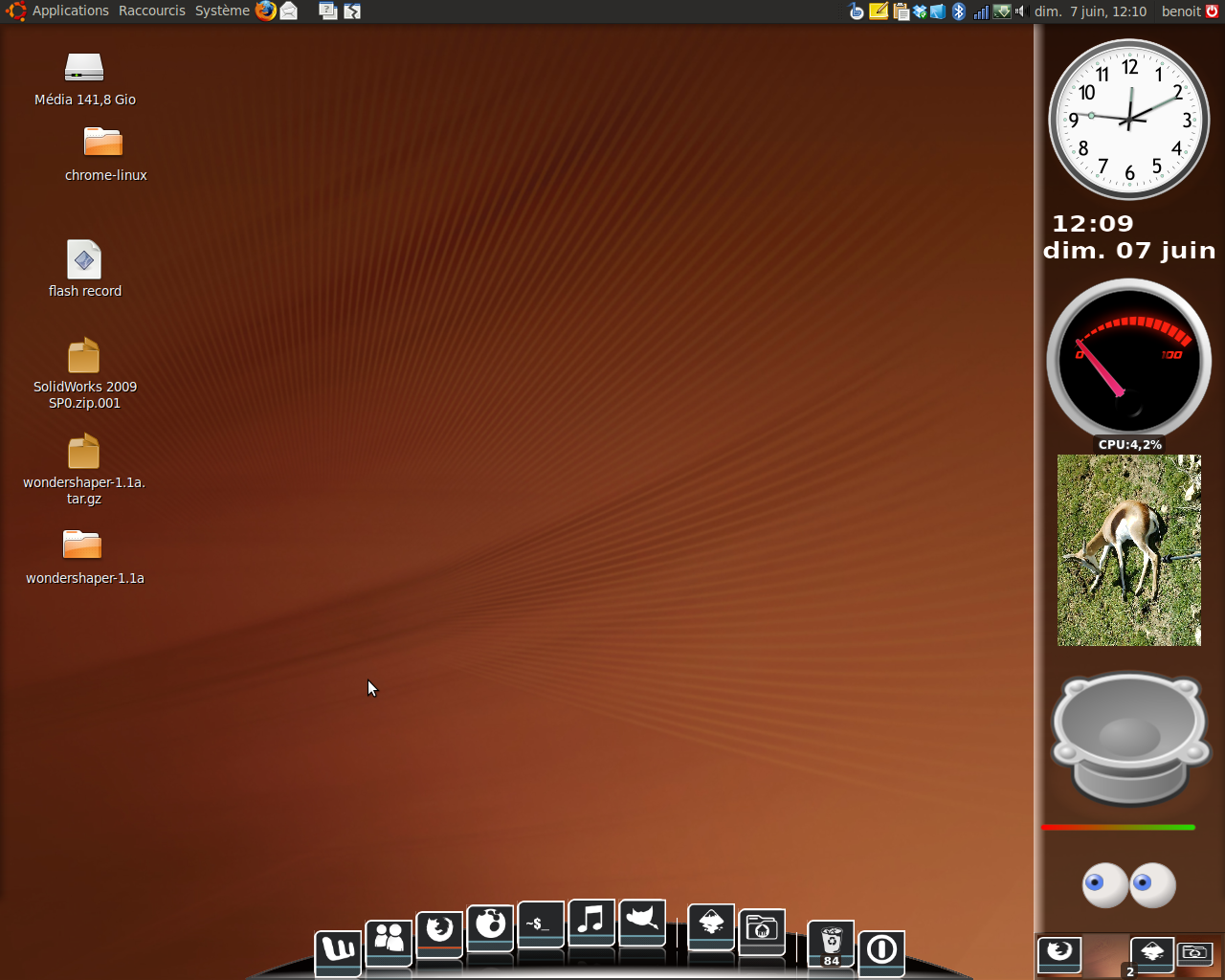 Docky. This is integrated as an optional Gnome-Do interface. It is simple, looks good and works extremely well. When you use Gnome-Do to search (actually Gnome-Do is much more than search), the dock is converted into a great looking search bar. I really like having one application that fills both of these needs. Auto-hide works well. Docky is what I have been using for the last couple months, but am I truly happy in this new relationship? Not quite. I wish there was an option to only show tasks from the current workspace, and I wish there were few more plugins (and the widget feature of CD).

Will a dock ever come installed as default in a popular Linux distro? It doesn't look like it is coming anytime soon. But, I think Gnome-Do's docky may have a good chance of making it into Ubuntu since David Siegel (Gnome-Do's original creator – though not docky coder) is now working at Canonical.
(Images taken from respective project websites)